Marbella Taxi Transfer Service
When it comes to traveling in Marbella, a reliable taxi service can make all the difference. At Marbella Airport Transfers, we pride ourselves on offering top-notch transportation solutions tailored to your needs. Whether you're in search of a seamless airport transfer, exploring the city, or need a comfortable ride to your destination, our Marbella taxi service has got you covered. In this comprehensive guide, we'll delve into the world of Marbella taxis, taxi transfers, and more, ensuring you have a memorable and hassle-free journey.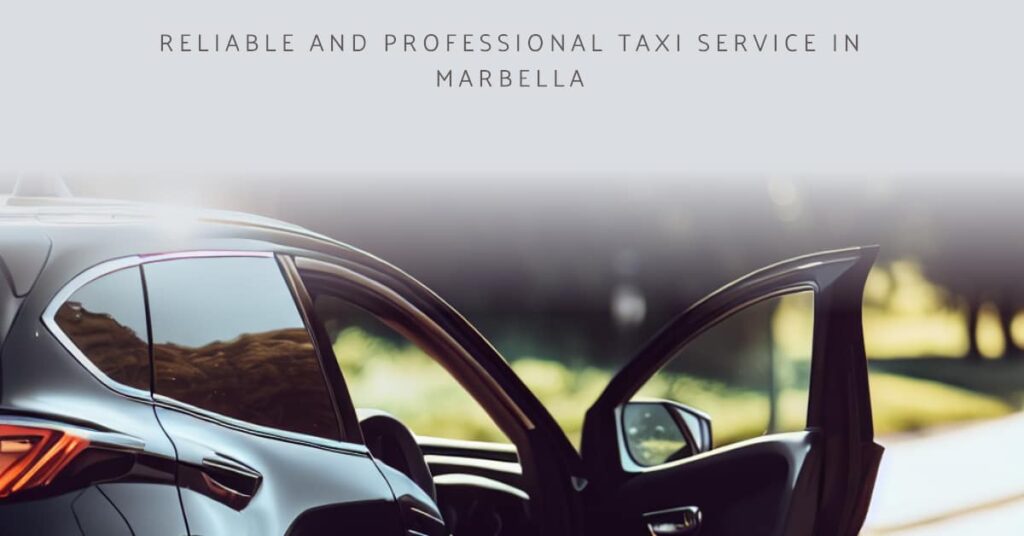 Marbella Taxi Transfer: Your Gateway to Comfortable Travel
Traveling in an unfamiliar city can be daunting, but our Marbella taxi service aims to turn that experience into one of comfort and convenience. With a fleet of well-maintained vehicles and professional drivers, we're dedicated to providing you with a stress-free and enjoyable journey. Here's what you can expect when you choose Marbella Airport Transfers for your taxi needs:
Expert Drivers with Local Knowledge
Our drivers are not just professionals; they're also local experts. They know the ins and outs of Marbella, ensuring you take the best routes to your destination and avoid unnecessary delays.
Punctuality is Our Priority
Time is of the essence, especially when traveling. We understand that, and that's why we take punctuality seriously. Count on us to be there when you need us, without any delays.
Wide Range of Vehicle Options
Whether you're traveling solo, with a group, or have excess luggage, we have a variety of vehicle options to cater to your needs. From comfortable sedans to spacious minivans, we've got the right vehicle for you.
Clean and Comfortable Interiors
Step into a clean and well-maintained vehicle that offers a comfortable ride. Our interiors are designed to provide you with a relaxed and enjoyable journey from start to finish.
24/7 Availability
Travel plans can change, and emergencies can arise at any time. That's why our Marbella taxi service is available round the clock, ensuring you always have a reliable transportation option.
Marbella Taxi Service: Going Beyond the Ordinary
At Marbella Airport Transfers, we take pride in going the extra mile to make your journey extraordinary. Our commitment to exceptional service extends beyond just getting you from point A to B. Here's what sets our Marbella taxi service apart:
Personalized Service Tailored to You
Every traveler is unique, and so are their needs. We understand this, which is why we offer personalized service that caters to your specific requirements.
Door-to-Door Transfers
Forget about the hassle of navigating through unfamiliar streets. Our door-to-door taxi transfers ensure you're dropped off and picked up right at your desired location.
Competitive Pricing with No Hidden Fees
Traveling should be enjoyable, not financially burdensome. Our transparent pricing ensures you won't encounter any surprise charges, allowing you to travel stress-free.
Quick and Easy Booking
Booking a taxi should be convenient. With our user-friendly online booking system, you can secure your ride in just a few clicks, saving you time and effort.
Safety and Security
Your safety is our top priority. Our vehicles are equipped with modern safety features, and our drivers follow the highest safety standards, giving you peace of mind throughout your journey.
Marbella Taxis: Your Gateway to Exploring the City
Marbella is a city rich in culture, history, and breathtaking sights. To make the most of your visit, our Marbella taxi service doubles as your guide to exploring the city. Here's how we enhance your travel experience:
Local Insights and Recommendations
Our drivers are not only well-versed in driving; they also serve as local guides. Ask them for recommendations on the best restaurants, attractions, and hidden gems in Marbella.
Flexibility in Itinerary
Want to explore multiple attractions in a day? Our taxis offer the flexibility to create a customized itinerary that suits your preferences and interests.
Efficient Sightseeing
With our knowledgeable drivers and efficient routes, you can cover more ground while sightseeing, ensuring you get the most out of your time in Marbella.
Marbella Taxi Transfer: Your Gateway to Seamless Airport Travel
Navigating airports can be a stressful experience, but with Marbella Airport Transfers, your airport journey becomes smooth and hassle-free. Our Marbella taxi transfer service ensures you start and end your trip on a positive note.
Timely Airport Pickups
Arriving at the airport can be overwhelming, especially after a long flight. Our drivers will be there waiting for you, ensuring a seamless transition from the airport to your destination.
Comfortable Airport Drop-offs
Departing from Marbella? Our comfortable taxi transfers ensure you reach the airport relaxed and on time, eliminating any last-minute stress.
Luggage Assistance
Struggling with heavy luggage? Our drivers are more than happy to assist you with your bags, making your journey even more convenient.
Marbella Airport Taxi: Your Gateway to Stress-Free Departures
The journey doesn't end when you depart from Marbella. Our Marbella airport taxi service ensures your departure is as stress-free as your arrival.
Swift Departure Transfers
When it's time to leave Marbella, our efficient airport taxi service ensures you reach the airport promptly, giving you ample time for check-in and security procedures.
Relaxation on the Way
Before bidding farewell to Marbella, enjoy a comfortable and relaxed ride to the airport, giving you a chance to reflect on your trip and cherish your memories.
At Marbella Airport Transfers, our commitment to providing exceptional taxi services goes beyond just transportation. We're your partners in creating memorable journeys, offering comfort, convenience, and local insights every step of the way. Whether you're exploring Marbella's attractions, heading to the airport, or simply need a reliable ride, our Marbella taxi service is here to ensure your travel experience is nothing short of exceptional.
Ready to ride? Book your taxi today