Marbella Transfers to Malaga
When it comes to traveling, convenience and comfort are paramount. At Marbella Airport Transfers, we understand the significance of hassle-free transportation from Marbella to Malaga. Our premier service not only ensures a seamless transfer but also promises reliability, efficiency, and a touch of luxury. In this comprehensive guide, we'll delve into the details of our exceptional service and highlight how we cater to all your travel needs. Read on to discover how we've revolutionized the way you travel between Marbella and Malaga.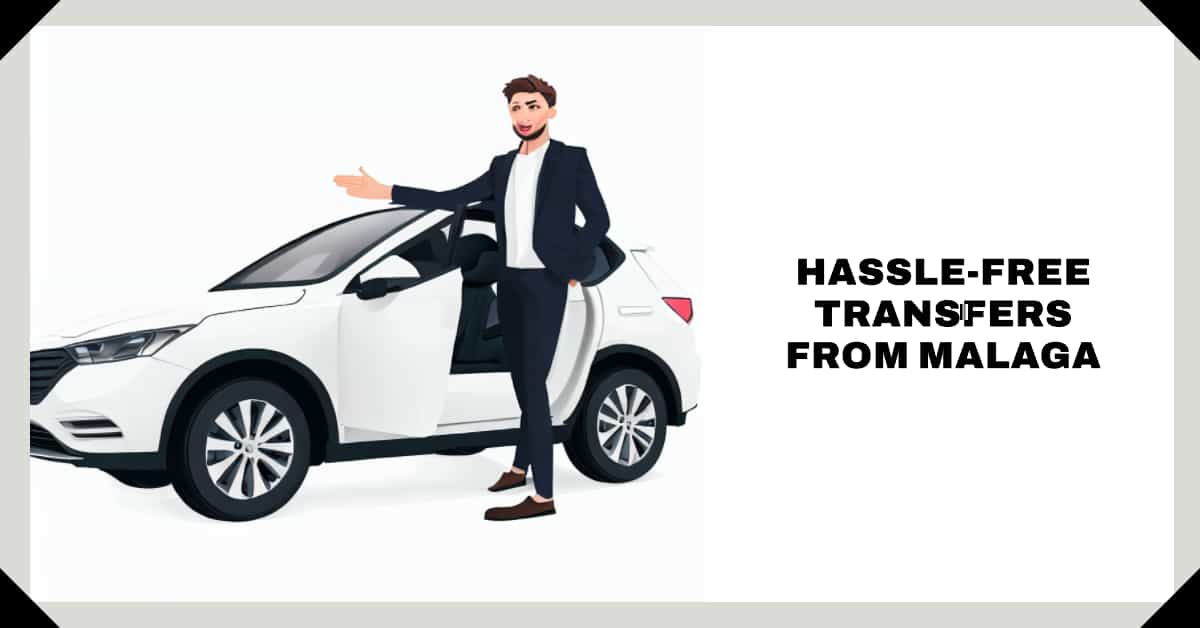 Elevating Your Travel Experience: Marbella Transfers to Malaga
At Marbella Airport Transfers, we take pride in offering a specialized and tailored transfer service between Marbella and Malaga. With our commitment to excellence, we go above and beyond to provide an exceptional travel experience that exceeds your expectations.
The Benefits of Choosing Marbella Airport Transfers
When you choose Marbella Airport Transfers for your journey from Marbella to Malaga, you unlock a plethora of benefits that set us apart from the rest:
Benefits of Choosing Marbella Airport Transfers
Choosing Marbella Airport Transfers comes with a plethora of benefits. From skilled drivers with local expertise to a diverse fleet of vehicles, you can tailor your travel experience according to your preferences. Additionally, the company's dedication to safety and cleanliness offers peace of mind, especially in today's world.
Efficiency and Punctuality
We understand the value of your time. Our drivers are well-versed with the routes and traffic conditions, ensuring that you reach your destination in a timely manner.
Comfort and Luxury
Our fleet of vehicles boasts modern amenities and a touch of luxury. From spacious seating to climate control, we prioritize your comfort throughout the journey.
Professional Chauffeurs
Our professional and courteous chauffeurs are trained to provide you with a safe and enjoyable ride. They prioritize your safety and well-being at all times.
Convenience
With our user-friendly booking system, you can reserve your transfer effortlessly. We're available 24/7, so you can book at your convenience, no matter the time.
Affordability
We believe in transparent pricing. Our competitive rates ensure that you receive exceptional value for the high-quality service you experience.
Exploring Marbella Transfers to Malaga: How It Works
Online Booking Made Simple
Begin your journey by visiting our website and accessing our intuitive booking platform. Enter your travel details, select your vehicle preference, and confirm your reservation with ease.
Prompt Confirmation
Once you've completed the booking process, you'll receive a prompt confirmation along with all the essential details of your transfer.
Meet and Greet
On the day of your transfer, our professional chauffeur will meet you at your designated location, ensuring a seamless start to your journey.
Effortless Travel
Relax in the comfort of our modern and well-maintained vehicles as our experienced driver navigates the route, allowing you to focus on enjoying the scenery.
Timely Arrival
Rest assured that you'll arrive at your destination on time, as our drivers are well-versed with the best routes and traffic patterns.
Feedback and Future Bookings
Your satisfaction is our priority. We value your feedback and hope you consider Marbella Airport Transfers for your future travel needs.
Exploring Marbella and Malaga:
As you embark on your journey from Marbella to Malaga, you'll be treated to a scenic drive that unveils the beauty of both destinations. Marbella, known for its glamorous beaches, charming old town, and vibrant nightlife, offers a taste of luxury and relaxation. On the other hand, Malaga, a historic port city, boasts a rich cultural heritage with its museums, galleries, and architectural wonders.
As you travel between these two captivating cities, our Marbella Transfers to Malaga service ensures that your transition is not just a physical journey, but an immersive experience. Our chauffeurs are not only skilled drivers but also knowledgeable guides who can provide insights about the local attractions, culture, and history. Feel free to engage in a conversation with them and uncover hidden gems that you might want to explore during your stay.
Experience the epitome of travel convenience with Marbella Airport Transfers. Our dedicated service, commitment to quality, and unwavering focus on customer satisfaction make us the preferred choice for Marbella transfers to Malaga. Say goodbye to travel stress and embrace a journey filled with comfort, reliability, and luxury. Book your transfer today and elevate your travel experience with us.