Malaga Airport Transfers to Marbella: Your Hassle-Free Journey Starts Here
If you're planning a trip to the stunning coastal city of Marbella, ensuring a smooth and comfortable journey from Malaga Airport to your destination is essential. At Marbella Airport Transfers, we understand the importance of stress-free travel, which is why we are dedicated to providing top-notch Malaga Airport transfers to Marbella. Whether you're a solo traveler, a couple, or a group, our reliable and convenient service is designed to meet all your transportation needs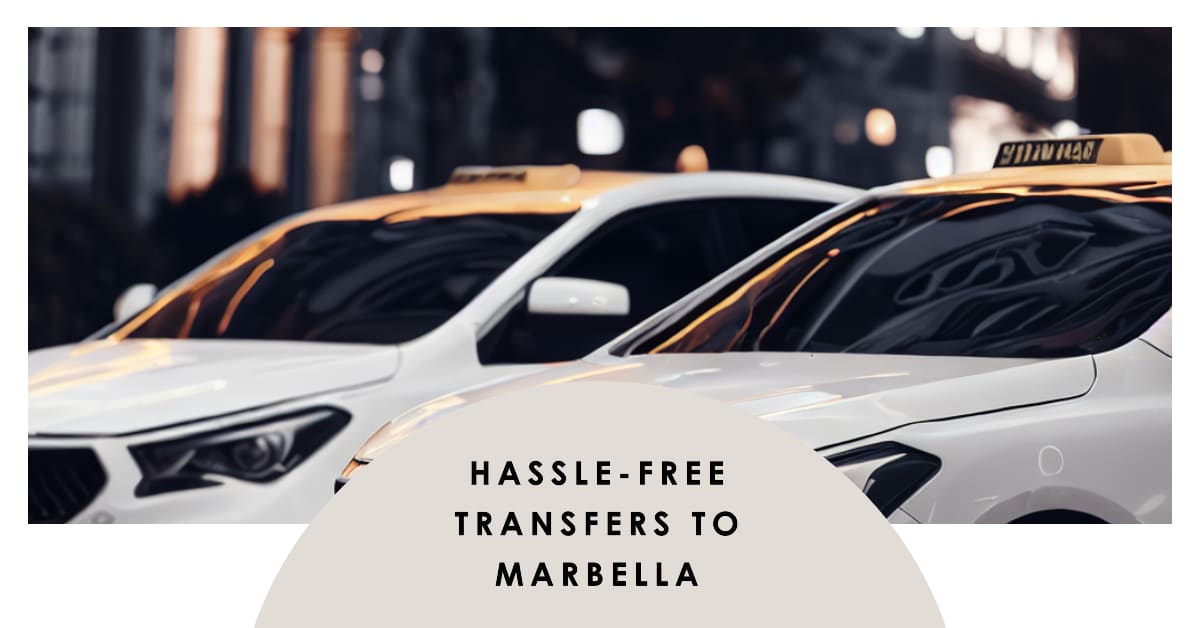 Why Choose Malaga Airport Transfers to Marbella?
\Heading to Marbella for a vacation or business trip is an exciting endeavor. However, getting there can be a bit daunting, especially if you're unfamiliar with the area or don't speak the language. This is where Marbella Airport Transfers comes in to make your journey as smooth as possible. Here's why you should choose us:
Convenience and Comfort
Our dedicated airport transfer service ensures that your journey from Malaga Airport to Marbella is comfortable and convenient. Say goodbye to the hassle of navigating public transportation or waiting for taxis. With our private transfer service, you'll be met at the airport by one of our professional drivers, ready to take you directly to your destination in Marbella.
Punctuality Matters
We understand that time is of the essence when you're traveling. Our drivers are known for their punctuality. You won't have to worry about missing your flight or any important appointments. We'll get you to your destination on time, every time.
Safety First
Your safety is our top priority. All our vehicles are well-maintained and adhere to the highest safety standards. Our drivers are experienced, licensed professionals who know the local roads, ensuring a safe and smooth ride.
Competitive Pricing
Quality service doesn't have to come with a hefty price tag. At Marbella Airport Transfers, we offer competitive rates without compromising on the quality of service. You'll get excellent value for your money.
Personalized Service
We understand that every traveler is unique. That's why we offer a range of vehicle options to cater to your specific needs. Whether you're traveling solo, with family, or in a large group, we have the right vehicle for you.
Explore Marbella's Splendid Beaches
Marbella is renowned for its pristine beaches that stretch along the Mediterranean coastline. Whether you're a sunseeker, a water sports enthusiast, or simply looking to unwind by the sea, Marbella's beaches have something for everyone. From the vibrant atmosphere of Nikki Beach to the tranquil shores of Cabopino, you'll find a beach that suits your mood. Our Malaga Airport transfers to Marbella will get you to these stunning beach destinations with ease, so you can start basking in the sun and enjoying the crystal-clear waters of the Mediterranean without delay.
Discover Marbella's Vibrant Nightlife
Marbella comes alive after the sun sets, and its nightlife scene is legendary. From chic beachfront clubs to cozy tapas bars, there's no shortage of entertainment options. Experience the glamour of Puerto Banús or the historic charm of Marbella's Old Town as you explore the city's diverse nightlife offerings. With Marbella Airport Transfers, you can enjoy a worry-free night out, knowing that your reliable transportation is just a call away, ensuring you have a fantastic time and return to your accommodations safely at the end of the night.
When it comes to Malaga Airport transfers to Marbella, Marbella Airport Transfers is your reliable and trustworthy choice. We take the stress out of your journey, ensuring you arrive in Marbella refreshed and ready to explore all that this stunning destination has to offer.
Don't leave your transportation to chance—book with us today and experience the convenience, comfort, and professionalism that sets Marbella Airport Transfers apart. Your adventure in Marbella begins the moment you land at Malaga Airport, and we're here to make it memorable for all the right reasons. Choose us for your transfer and start your Marbella experience on the right foot.