Travel Comfortably: Fuengirola to Marbella Taxi
When planning a trip from Fuengirola to Marbella, one of the essential aspects to consider is transportation. While there are various options available, a taxi service can provide convenience, comfort, and a hassle-free journey. In this article, we'll explore Marbella Airport Transfers, a reliable and efficient taxi service that ensures a seamless transfer between Fuengirola and Marbella. Whether you're a tourist exploring the beautiful coastal region of Spain or a local looking for a reliable transport option, Marbella Airport Transfers has got you covered.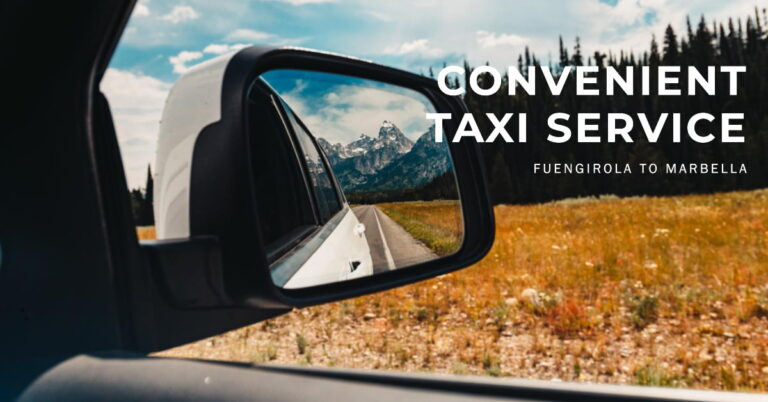 The Scenic Route from Fuengirola to Marbella
The journey from Fuengirola to Marbella offers picturesque views of the Spanish coastline and the stunning landscapes of the Costa del Sol. The route takes you through charming towns and villages, providing a glimpse of the rich Andalusian culture. Choosing a taxi service like Marbella Airport Transfers allows you to relax and enjoy the journey without worrying about navigation or parking.
Marbella Airport Transfers: Your Reliable Taxi Service
Marbella Airport Transfers is a well-established and reputable taxi service specializing in airport transfers and transportation between Fuengirola and Marbella. With years of experience, they have gained a strong reputation for providing top-notch service to their customers. Their fleet of modern and well-maintained vehicles ensures a comfortable and pleasant journey.
Advantages of Choosing Marbella Airport Transfers
1. Punctuality and Timeliness
Marbella Airport Transfers understands the importance of time, especially when it comes to catching a flight or arriving at your destination. They take pride in their punctuality and commitment to getting you to your desired location on time.
2. 24/7 Availability
Whether you need a taxi service early in the morning or late at night, Marbella Airport Transfers operates 24/7, catering to your transportation needs at any hour.
3. Door-to-Door Service
Their door-to-door service ensures that you are picked up and dropped off at your specified location, providing the utmost convenience for travelers.
4. Multi-Lingual Drivers
To cater to an international clientele, Marbella Airport Transfers employs drivers who are proficient in multiple languages, making communication easy and effective.
Booking a Taxi from Fuengirola to Marbella
Booking a taxi with Marbella Airport Transfers is a straightforward process. You can book in advance through our user-friendly website or make a reservation via phone. They require essential details such as your pickup location, drop-off destination, date, and time of travel.
The Cost of the Taxi Service
The cost of the taxi service from Fuengirola to Marbella may vary depending on factors such as the distance, time of travel, and any additional services requested. Marbella Airport Transfers offers competitive and transparent pricing, ensuring you get value for your money.
Traveling in a taxi offers unparalleled comfort compared to public transportation. With Marbella Airport Transfers, you can sit back, relax, and enjoy the journey while their professional drivers handle the rest.
Safety Measures and Precautions
In light of the ongoing pandemic, Marbella Airport Transfers has implemented stringent safety measures to ensure the well-being of their passengers. All vehicles are regularly sanitized, and drivers adhere to health guidelines.
Exploring Marbella: A Mediterranean Paradise
Upon reaching Marbella, you'll be greeted by a coastal paradise boasting pristine beaches, luxurious resorts, and a vibrant nightlife. Explore the historic Old Town, visit the famous Puerto Banus marina, and indulge in delicious Mediterranean cuisine.
When it comes to traveling from Fuengirola to Marbella, Marbella Airport Transfers stands out as a reliable, safe, and convenient taxi service. Their dedication to punctuality, comfort, and customer satisfaction sets them apart from the rest. So, why worry about transportation? Book your taxi now and embark on a memorable journey through the scenic landscapes of the Costa del Sol.