Taxi: Torremolinos to Marbella
When it comes to traveling from Torremolinos to Marbella, finding a reliable and efficient mode of transportation is essential. Whether you're a tourist exploring the beautiful coastal region of Spain or a local heading to Marbella for business or leisure, a taxi service can offer the convenience and comfort you need. In this article, we'll explore the taxi service provided by Marbella Airport Transfers, focusing on the benefits, the distance between the two locations, taxi fare details, and why choosing this service is the best option for travelers.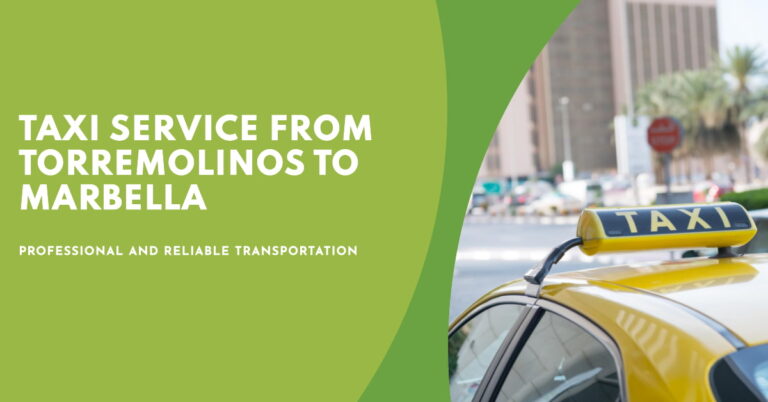 The Convenience of Taxi Services
Traveling can be stressful, especially when you're unfamiliar with the area. Taxis offer a convenient door-to-door transportation solution, eliminating the hassle of navigating public transport or renting a car. With a taxi service, you can relax and enjoy the journey without worrying about directions or parking.
Marbella Airport Transfers: A Reliable Choice
Marbella Airport Transfers is a reputable and reliable taxi service that operates in the Costa del Sol region. They specialize in providing transportation between Torremolinos and Marbella, ensuring a seamless and enjoyable experience for their passengers.
The Distance Between Torremolinos and Marbella
The distance between Torremolinos and Marbella is approximately 47 kilometers (29 miles). A taxi service from Marbella Airport Transfers can cover this distance in a reasonable amount of time, saving you from the inconvenience of long journeys.
Fast and Comfortable Transportation
Marbella Airport Transfers prioritizes customer comfort and satisfaction. Their fleet of modern, well-maintained vehicles ensures a smooth and comfortable ride to your destination. Additionally, their experienced drivers are knowledgeable about the region, enhancing the overall travel experience.
Concerns about taxi fares are common among travelers. However, Marbella Airport Transfers offers competitive and transparent pricing, making their services affordable for a wide range of customers. No hidden fees, no surprises – just a fair and reasonable fare for your journey.
Traveling with Ease and Peace of Mind
Traveling from Torremolinos to Marbella with Marbella Airport Transfers gives you peace of mind. You can rely on their punctuality and professionalism, allowing you to focus on your travel plans without any unnecessary worries.
Experience the Scenic Beauty
The route between Torremolinos and Marbella offers breathtaking views of the Mediterranean coastline and the Andalusian landscape. With a taxi service, you can sit back, relax, and soak in the scenic beauty during your journey.
In conclusion, if you're looking for a reliable, comfortable, and affordable mode of transportation from Torremolinos to Marbella, Marbella Airport Transfers is the ideal choice. Our taxi service ensures a stress-free journey, allowing you to focus on enjoying your time in Marbella. Book your taxi today and experience the convenience and comfort of Marbella Airport Transfers.