When it comes to hassle-free and comfortable airport transfers in Marbella, look no further than Marbella Taxi Airport. We understand the importance of a smooth and timely journey after a long flight, and our dedicated service is designed to cater to your needs. Whether you're a solo traveler, a couple, or a group, our reliable and professional transfer service ensures you reach your destination with convenience and style.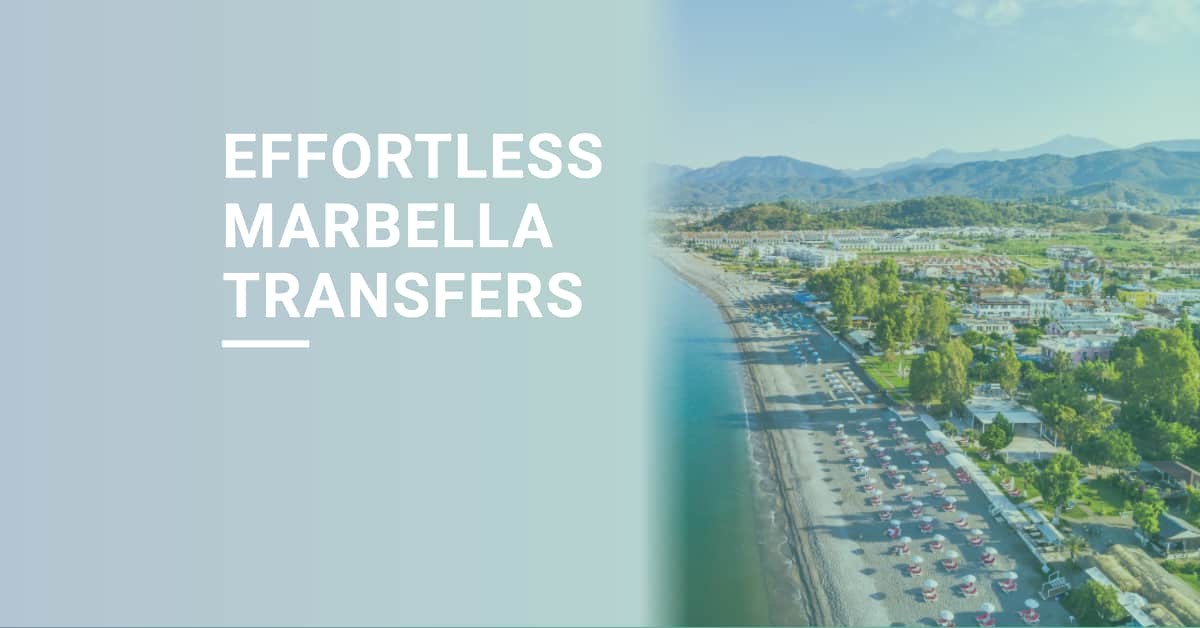 Why Choose Marbella Taxi Airport?
At Marbella Taxi Airport, we stand out from the crowd for several reasons:
Reliability: We prioritize punctuality. Our experienced drivers are well-versed with the local routes, ensuring you reach your destination on time, every time.
Comfort: Your comfort matters to us. Our fleet of vehicles is well-maintained and equipped with modern amenities, making your journey as comfortable as possible.
Safety: We prioritize your safety. Our drivers are licensed and experienced professionals who follow all safety regulations to provide you with a secure travel experience.
Variety of Vehicles: We understand that different travelers have different needs. From sedans and SUVs to larger vehicles for groups, our diverse fleet can accommodate your specific requirements.
We offer a range of services tailored to your needs:
Airport Transfers: Our primary service is airport transfers. Whether you're arriving at Malaga Airport or departing from Marbella, we ensure a seamless transition between the airport and your destination.
Point-to-Point Transfers: Need to travel within Marbella or to nearby destinations? Our point-to-point transfer service ensures you get to your desired location comfortably and efficiently.
Hourly Hire: Exploring Marbella at your own pace? Our hourly hire service allows you to have a dedicated vehicle and driver for a set number of hours, giving you the flexibility to visit multiple places.
Special Occasions: Planning a special event or celebration? Our special occasion transfer service adds a touch of luxury and convenience to your big day.
Booking Your Marbella Taxi Airport Transfer
Booking your transfer with us is quick and easy:
Online Booking: Visit our user-friendly website Marbella Airport Transfers and fill out the booking form. Provide your travel details, including pick-up and drop-off locations, date, and time.
Instant Quote: Receive an instant quote based on your details. Our transparent pricing ensures you know exactly what to expect.
Confirmation: Once you're satisfied with the quote, confirm your booking. You'll receive a confirmation email with all the necessary details.
Meet and Greet: On the day of your travel, our driver will be waiting for you at the designated meeting point, ready to assist you with your luggage and provide a warm welcome.
Exploring Marbella Made Easy
Our Marbella Taxi Airport service not only takes the stress out of airport transfers but also opens up a world of exploration in this stunning coastal town. From the picturesque Old Town to the vibrant Puerto Banus, our drivers can recommend popular destinations and hidden gems to enhance your Marbella experience.
Ready to experience hassle-free transfers in Marbella? Contact Marbella Taxi Airport today for reliable, comfortable, and safe transportation. Reach out to us via our website or give us a call at [+34644520950]. Your journey begins with us!
Marbella Taxi Airport is your trusted partner for seamless airport transfers and transportation services in Marbella. Our commitment to reliability, comfort, and safety sets us apart, ensuring you have a memorable and stress-free travel experience. Book with us today and discover the convenience of traveling with experts who prioritize your needs. Your journey, our responsibility.