Are you planning a trip to the stunning town of Elviria in Marbella? Look no further for your transportation needs. We at Marbella Airport Transfers offer top-notch taxi services that cater to all your travel requirements. Whether you're arriving at the airport or exploring the local attractions, our reliable and efficient taxi services are here to make your journey smooth and enjoyable.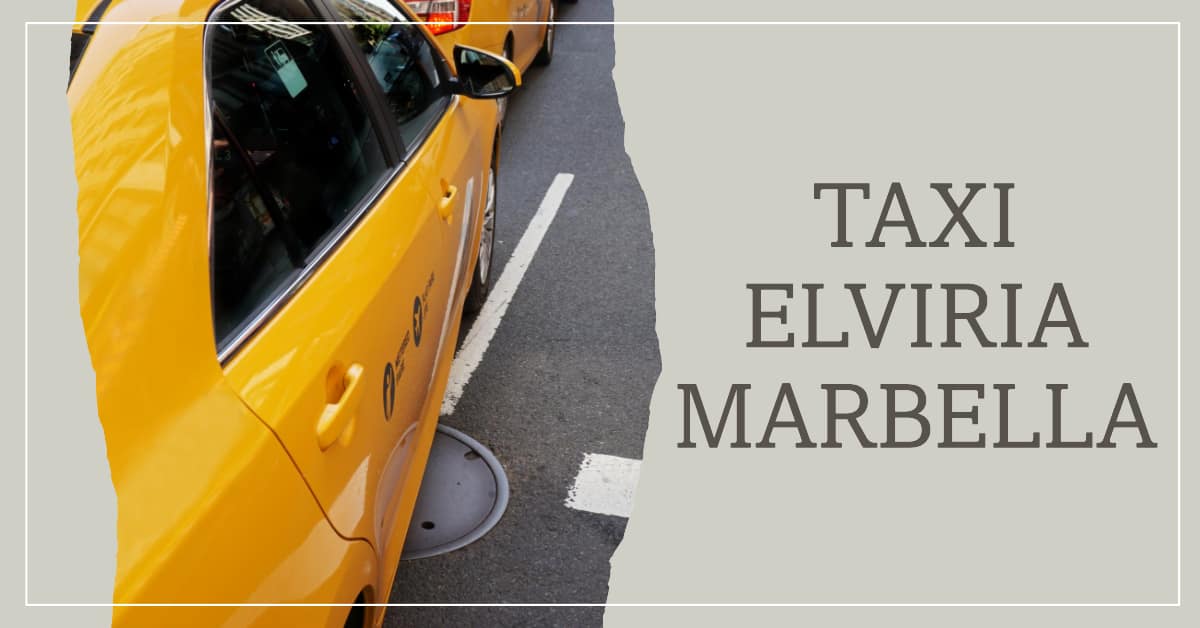 Discover the Convenience of Taxi Elviria Marbella Services
Why Choose Our Taxi Elviria Marbella Service? When it comes to traveling in and around Elviria, our taxi service stands out as the preferred choice. Here's why:
Prompt Airport Transfers: We understand the importance of punctuality when catching a flight or arriving at your destination. Our taxi service ensures timely pickups and drop-offs at Marbella's airports, providing you with peace of mind.
Experienced Drivers: Our team of professional drivers is well-acquainted with the local routes and traffic conditions. You can trust them to navigate through the bustling streets of Elviria and Marbella, ensuring a smooth and efficient journey.
Comfortable and Clean Vehicles: Our fleet of vehicles is maintained to the highest standards of cleanliness and comfort. Whether you're traveling solo or in a group, we have the right vehicle to accommodate your needs.
Affordable Rates: We believe that quality transportation shouldn't come at exorbitant prices. Our competitive rates make us the cost-effective choice for your taxi needs in Elviria and Marbella.
Booking Your Taxi Elviria: Reserving your taxi with us is hassle-free and convenient. Simply visit our website or give us a call, and our friendly staff will guide you through the booking process. Provide your travel details, and we'll take care of the rest.
Explore Elviria with Ease
Local Exploration with Taxi Elviria: Our services extend beyond just airport transfers. Whether you're planning to visit the iconic Santa Maria Golf Club, relax on the sandy Elviria Beach, or explore the Elviria Hills area, our taxi service is your reliable companion. No need to worry about parking or navigating unfamiliar roads – our drivers will take you directly to your desired destination.
Online Booking: Visit our user-friendly website Marbella Airport Transfers and fill out the booking form. Provide your travel details, including pick-up and drop-off locations, date, and time.
Instant Quote: Receive an instant quote based on your details. Our transparent pricing ensures you know exactly what to expect.
Confirmation: Once you're satisfied with the quote, confirm your booking. You'll receive a confirmation email with all the necessary details.
Meet and Greet: On the day of your travel, our driver will be waiting for you at the designated meeting point, ready to assist you with your luggage and provide a warm welcome.
Customer Satisfaction is Our Priority
Why We Stand Out: At Marbella Airport Transfers, our commitment to customer satisfaction is unwavering. We take pride in providing a seamless and comfortable travel experience to our clients. From the moment you book with us to the time you reach your destination, our focus remains on ensuring your journey is safe, enjoyable, and stress-free.
Book Your Elviria Taxi Today: Ready to experience the convenience and comfort of our taxi services in Elviria, Marbella? Don't hesitate to get in touch with us. Book your taxi today by visiting our website or giving us a call at [+34644520950]. Your journey starts with us!
Navigating through Elviria and Marbella has never been easier, thanks to our reliable and efficient taxi services. Whether you're arriving at the airport or exploring the local attractions, Marbella Airport Transfers ensures that your journey is smooth, comfortable, and memorable. Book your taxi today and experience the convenience firsthand. Your travel needs are our top priority, and we look forward to serving you on your next adventure in Elviria.